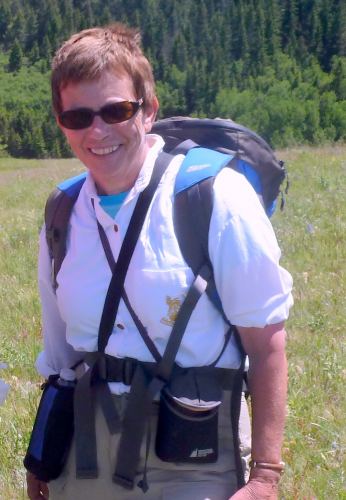 "The serenity of a sunset in the mountains, the pristine colors, the ruggedness, the gentleness of first light on the mountains, the spirituality of being surrounded with Nature's own cathedral pillars – all speak to me and give me the inspiration to interpret the wonder of the mountains and Nature's landscapes. I also gain much of my inspiration from the environment surrounding my remote summer home which is a log cabin in the B.C. interior. It is here in my lakeside studio where I try to relive on canvas the beauty of Nature."
Ruth was born in New Brunswick where she spent her formative years. After completing her education with a Bachelor of Education degree with a major in Art Education, Ruth taught art in New Brunswick, Quebec and Alberta.
Ruth moved to Calgary as a young teacher to spend time in the mountains hiking and skiing. Her first impressions of the mountains and foothills are a continuing source of inspiration for her paintings as are the varied landscapes in other parts of the world that Ruth experiences on her annual hiking holidays to Europe and beyond.
Ruth's love of photography is an asset to her paintings as she remains ever vigilant to those elements that would be a starting point from which to capture on canvas the essence of the photo.
Ruth is a member of the Parkdale Art Club, the Calgary Community Painters Society and the Calgary Retired Teachers Annual Art Show.
Ruth has taken workshops with Karen Richter, Robert Wood, Rick Berg, Brent Laycock, Mary Lee Doyle, Nancy-Lynne Hughes and Sherry Telle.